Meet Our Indy Southside Dentist, Michael Reeves, DDS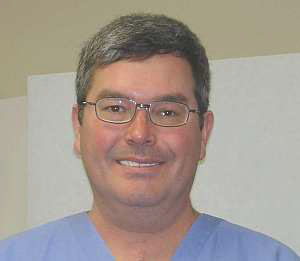 Dr. Reeves offers Family and Cosmetic General Dentistry for children, teenagers and adults.
Extra effort is taken to treat each patient as an individual with dental care to the level they wish. Some patients have the goal of keeping basic dental health at a reasonable expense, while others chose to receive complete cosmetic treatment.
Dr. Reeves has been in solo private practice in Greenwood since 1993. Since this is not a corporation retail-chain office with quotas and revolving employees, you know that you'll be seeing Dr. Reeves at each visit.
After 15 years in his office off Fry Rd., we relocated in 2008 to our current location, about 1.5 miles away, on Fairview Rd., just west of SR135. We've designed the office to be family friendly, increasing your comfort during dental appointments.
Dr. Reeves is a graduate of Indiana University Bloomington and Indiana University School of Dentistry. Annually, additional multiple continuing education courses are taken, so that advanced current dental techniques are used.
Dr. Reeves grew up in Greenwood attending Center Grove Schools. I love the area and live about two miles from my practice with my wife, three children, and two dogs. He and his family are members of Greenwood Christian Church and are involved in area youth sports.
We understand that "IT'S YOUR MOUTH" and you should thoroughly understand all issues and treatment. You'll NEVER wonder if a dental treatment is REALLY needed again. Time is always taken by Dr. Reeves and his staff to explain any dental problems to the patient. To help, we use enlarged digital x-rays and Intraoral cameras for close-up in-mouth pictures. Patients can also watch our video education system to better understand the problem and proposed treatment. Of course we also answer any questions. We've found that a knowledgeable patient is more comfortable with their dental care and has significantly reduced dental anxiety.
Dr. Reeves is a "conservative" dentist with a focus on preventative care. There is a fine line between under-treatment and over-treatment, so we listen carefully to our patients to improve diagnosis and outcomes with minimal treatment. Treatment plans are customized to meet the patient's wants and needs.
Our practice's ultimate guide for patient care is Colossians 3:23-24 (NIV) "Whatever you do, work at it with all your heart, as working for the Lord, not for men, 24since you know that you will receive an inheritance from the Lord as a reward."
Here you will receive comfortable dental care focused on you. We want you to have such a pleasant, satisfying experience that you will be a patient for years to come.